Decades before Howard Stern and Ellen Degeneres brought them to the pinnacle of chic, lesbians enjoyed another cultural boom. Back in the 1950s and '60s, paperback spin racks were full of titles such as Orgy of the Dolls, Women in Prison and Lesbian Gym. This bizarre subgenre finally gets a 160-page salute in Jaye Zimet's Strange Sisters: The Art of Lesbian Pulp Fiction ($19.95, out this month from Viking Studio).
The cover illustrations were hypersexual, kitschy, and had nothing in common with the lifestyles of real lesbians. Inside the covers, the stories ranged from confessional coming-of-age tales by real! live! lesbians to vaguely pornographic escapades aimed at male readers looking for a racy read. Many were disguised as "medical" or "psychological" case studies -- which is to say that none of them ended with two women living happily ever after.
Ironically, for many lesbians at the time, the books represented their only contact with a lifestyle barely acknowledged in america's buttoned-down, post-war years. "There was no other place for women who were not straight to find themselves," says Zimet. "So they cherished these books and read between the lines." And apparently past the cover art, as well.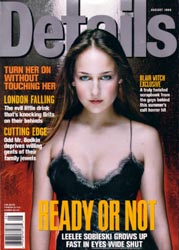 Details Magazine
August 1999