SIGNINGS & READINGS
Yer kiddin', right?
Unless I ever actually write a whole book, my public appearances -- never mind official signings -- are pretty few and far between, an occasional scribble of a magazine article or contribution to an anthology or something barely justifying anything as grandiose as an official signing.
But I have done it! In fact...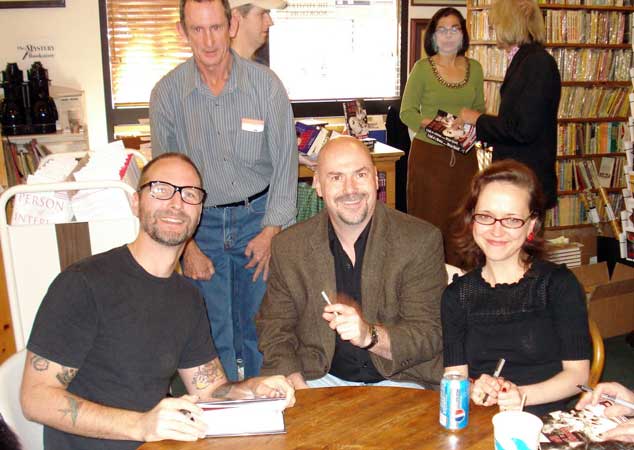 Here I am, grinning like the geek who's been invited to sit at the cool kids' table in the high school cafeteria, with real writers Charlie Huston and Megan Abbott in December 2007 at The Mystery Bookstore in Los Angeles, signing copies of A Hell of a Woman, the "anthology of female noir" that Meg edited. I contributed essays on a couple of my favourite hard-boiled female writers.
If I ever do complete a whole book, with my name on the cover and everything, I will certainly list the signings here.
In the meantime, though, I do occasional readings from works in progress and occasional tributes to some of my favourite crime and detective writers at Butler's Coffee in Palmdale at their monthly Literary Jam Thang and moderate Murder Ink, a monthly mystery reading group at out local Barnes & Noble.

| Home | Columns | Articles & Essays | Reviews | Profiles & Interviews |
| Rip This Joint | The Bike Beat | Short Stories | Novels | Editor | "Expert Witness" |
| Contact Info | Links |

Photo by Aldo "Mystery Dawg" Calcagno. Used with permission.