SILVER SCREEN SPORTS:
Bend It Like Beckham
Summer 2004, Valley Sports News & Review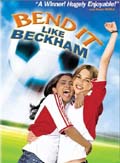 For those of you still buzzing from the recent American Youth Soccer Organization National Games held in Lancaster, Bend It Like Beckham is a soccer flick that the whole family should get a kick out of.
Refreshingly, the film -- now out on video and DVD -- steps outside the typical beer commercial mentality of most sports flicks and acknowledges that the love of sports is not reserved for men (or boys) alone. The story of a young East Indian girl growing up in London's multicultural suburbs who wants to "bend it" like British soccer superstar David Beckham may seem light years away from the Antelope Valley, but trust me ­ this isn't just some fluffy chick flick or shrill, didactic finger-pointing feminist manifesto. There are important lessons offered here for both girls and boys ­ and their parents. After all, the eternal battle of wills between generations, and the acknowledgement that the really tough challenges in life aren't on the playing fields, are pretty much universal themes.
Jesminder (Parminder Nagra, currently on television's ER) Bahamra dreams of becoming a soccer star like her idol Beckham (probably best known stateside as the man married to one of the Spice Girls). But her very conservative and traditional family, already in a dither over her older sister's upcoming wedding, refuses to even consider Jess' ambitions, despite her obvious talent and passion for the game. Soccer (or football, as those zany Brits insist on calling it), is just not the sort of thing young ladies should be doing, solemnly declares Mrs. Bahamra. She and her husband would rather Jess forget all this "foolishness" and start preparing herself for eventual marriage to some nice Indian boy, as her sister has done. Jess, however, isn't convinced that improving her domestic skills is all there is to life. "Anyone can cook aloo gobi" she protests, "but who can bend a ball like Beckham?"
So, with the help of new-found soccer buddy and fellow rebel Juliet "Jules" Paxton, Jess joins a new girls-only soccer team behind her family's back. Jules (played by Keira Knightley, currently playing Queen Guinevere in King Arthur) has her own mother problems, you see, which helps the two form a quick bond, even as their budding friendship is hilariously misunderstood by both families. Meanwhile the team, under the steady direction of a hunky young male coach, is starting to win games and gain some attention, and Jess realizes that she can't keep her secret from her family forever.
Things unfold with great attention to detail, and much comedic miscomprehension. Although the story of teenage rebellion is nothing new (one wag likened this film to "Footloose with cleats"), writer/director Gurinder Chadha brings considerable wit and cheekiness and generosity of spirit to the proceedings, and keeps things moving amiably along. And, rare for a film these days, enough good-natured respect is shown all around to make this a comedy that both teenagers (girls and boys) and their parents can enjoy.
Oh, sure, some American parents may find the British matter-of-factness about race and culture and even sexuality a little disconcerting, and others may find the language a little too down-to-earth for American sensibilities, but trust me, it's nothing your teenager ­ athlete or not -- hasn't already heard and thought about. And certainly, the bigger questions raised by this film are far more important than the sort of language they're asked in.
My biggest gripe, in fact, is that in laying out such a rich and wide-ranging buffet of off-field comedic detail and cultural nuance (Jess' sister's wedding is a real hoot), Chadha has short-changed us on the action on the playing field. I would have loved to have seen a little more of Jess and Jules actually strutting their stuff on the pitch.
Still, there's so much else to enjoy (and admittedly, the film does meander a bit at the end) that this lapse can be forgiven. The fact is, anyone open-minded enough to take a chance on this film (a smasheroo in the U.K.) will be richly awarded. Because, despite all the colorful trappings, the occasionally impenetrable accents, the cultural nuances that will probably soar way over the heads of many North American viewers, and the foreign-to-many world of serious football, this feel-good little movie cuts across the things that divide us, and delivers a heartwarming, message that's about as far away as the kid next door.
It's not that radical a notion, but one that can't be repeated enough ­ that both dreams and family are worth fighting for.
Bend It Like Beckham (2002, Bend It Films)
Rated PG-13 for language and sexual content.
112 minutes
Directed by Gurinder Chadha
Screenplay by Gurinder Chadha, Paul Mayeda Berges and Guljit Bindra
Starring Parminder Nagra, Keira Knightley, Jonathan Rhys-Meyers, Anupam Kher, Archie Panjabi, Shaznay Lewis
Currently available on DVD and VHS.