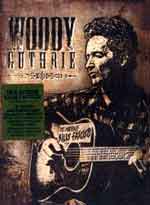 Woody Guthrie: This Machine Kills Fascists
Woody Guthrie
Snapper UK, May 2005

Buy this CD
Guthrie, the man who wrote "This Land is Your Land," "Pastures of Plenty," "Pictures of Life's Other Side," "Roll On Columbia" and "So Long It's Been Good to Know You " is of course one of the seminal figures in American music -- even if nobody had ever heard of that young feller from Hibbing. Supposedly he wrote over 3000 songs in his lifetime and inspired everyone from schoolkids to fellow musical travelers like Pete Seeger and Rambling Jack Elliot to Dylan, Bruce Springsteen, Steve Earle and Billy Bragg, who narrates this fascinating but flawed British documentary with his heart clearly evident on his sleeve.
It's fascinating because, hey, this is GUTHRIE, the original humdinger of a folksinger, an American icon whose signature tune, "This Land is Your Land," in a better world would be the American national anthem. Director Stephen Gammond lays out Guthrie's life in straightforward fashion, like workers laying out rail, relying on archival photographs and plenty of interviews with those who knew him, most notably his daughter Nora (who collaborated with Bragg and Wilco on the Mermasid Avenue albums which put music to many of Guthrie's previously unrecorded lyrics), son Arlo (of "Alice's Restaurant," "City of New Orleans," and "Coming into Los Angeles" fame, sister Mary Jo, and his friend and musical contemporary Seeger. Guthrie's deft blend of politics with words and musics is heard over and over in far-too-short snippets of his many songs, but the real frustration is simply the lack of much footage of Guthrie himself, padded out by far too many generic shots that seem to be there simply to fill up eye space song that begs a few questions. Like, didn't any of the family have a camera? Where's the damned music? Couldn't we actually hear a few complete songs? And what the hell does contemporary footage of a guy riding a bicycle in a snowstorm have to do with Guthrie?
As an intro to Guthrie, beginners might be better off checking out David "Kung Fu" Carridine in Hal Ashby's Bound for Glory, the Oscar-winning 1976 adaptation of Guthrie's autobiography. Fans, though, will lap it up, despite its flaws.