Crimes on .45
By Kevin Burton Smith
Welcome back, ladies and gentlemen, to the show that never ends. Once again, I've been on the prowl for songs from the world of pop, folk, country, rhythm, blues, soul, rock and who-knows-what, that somehow deal with our favorite subject: crime and, occasionally, punishment.

Anyway, here are a few more tasty little ditties, some you know and some you don't. But, as always, in the words of the late, great Johnny Cash "(Here are some) songs of robbers, liars and murderers. These songs are just for listening and singing. Don't go out and do it."

"I'm Gonna Get Me a Gun"
Written and performed by Cat Stevens
From the 1967 album Matthew & Son
Buy this CD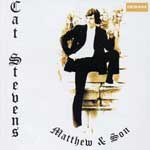 Yeah, that Cat Stevens. Steven Demetre Georgiou to his parents, Yusuf Islam to his friends in Homeland Security and Cat Stevens to just about everyone else, he of la-la-la morning-has-broken and oh-baby-it's-a-wild-world and all that, the former Donovan wannabe who finally tapped into his own kind of the mystic with 1971's Tea for the Tillerman. But before that, he was just another struggling popsmith, desperately searching for a hit. Granted, he was already a little, uh, airy, speaking to the flowers in one song on this album and mentioning "cuckoo clocks, and plastic socks" in another, but he was still relatively grounded at this point, writing straight pop ("Here Comes My Baby" - a 1967 hit for the Tremeloes) and griping about the nine-to-five world in the title track. And then there's "I'm Gonna Get Me a Gun,' a bouncy little ditty whose very catchy melody belies the stone-cold viciousness of the lyrics, a hymn to firearms as the preferred method of dealing with bullies. With toe-tapping glee, Cat informs us that "all those people who put me down, they better get ready to run" because "I'm gonna get me a gun." The boys at Columbine woulda loved this one. Not since the Beatle's 1965's "Run for Your Life" has teen pop sounded so cheery, chirpy and downright casual about murder. Were we ever this innocent? As Cat sang, "Ah ah, ah ah, no more."
"Long Black Veil"
Written by Marijohn Wilkens & Danny Dill
Performed by The Band
From the 1968 album Music From Big Pink
Buy this CD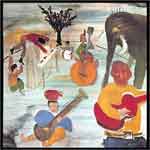 Leave it to The Band, a bunch of Canadians (and one American) to offer up the definitive version of this quintessential Appalachian weeper of murder and devotion sung from the grave by a man falsely accused of murder, who's just too darn honourable to clear himself because at the time of the crime he was "in the arms of my best friend's wife." But surprisingly, it's a ringer. The song isn't in fact hundreds of years old - it's a mere babe of a song, born in 1959, a deliberate attempt to cash in with an "instant folk song" according to co-writer Danny Dills. "I got on a kick with Burl Ives songs -- those old (folk) songs -- but I didn't know any, and I had no way to find any at the time, or was too lazy to look. So I said, 'I'll write (one).'" It's subsequently been covered by artists as diverse as Lefty Frizell (who first recorded it) Johnny Cash, Joan Baez, The Country Gentlemen, Scottish rawkmeisters Nazareth and most recently the Dave Matthews Band. But nobody has ever nailed it like the Band. Rick Danko's plainitvie vocals, a slightly dragging beat, an over-amped acoustic guitar and an ominous organ moaning and wheezing in the background make it seem timeless, a primal piece of pure Americana. "She walks these hills in a long, black veil..."
"38 Years Old"
Written and performed by The Tragically Hip
From the 1989 album Up to Here
Buy this CD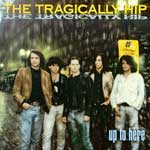 And speaking of timeless, this poignant story of a convicted murderer who busts out of Canada's notorious Millhaven Maximum Security in Kingston, Ontario, courtesy of hometown boy/vocalist/lyricist Gord Downie of the Hip is hard to beat. Talk about your instant folk songs - this one's about a man who's spent most of his life behind bars and, as the chorus keeps reminding us, is "38 years old, never kissed a girl." In terse, hard-boiled shorthand, Downie shrugs off a casual tale of breakout and recapture, sung over a Stonesy crunch of acoustic and electric guitars from the point-of-view of the fugitive's kid brother, reducing the entire original crime to "See my sister got raped, so a man got killed/ Local boy went to prison, man's buried on the hill." But this poor schmuck, finally tasting freedom, can't think of anywhere better to go than straight back home, where his family still lives, just as frozen in time as he is ("Same pattern on the table, same clock on the wall/ Been one seat empty eighteen years in all"). The short-lived reunion and the final payoff are rendered in stark, almost Haiku-like simplicity:
"My mother cried "The horror has finally ceased"
He whispered "Yeah, for the time being, at least"
Over his shoulder, the squad car megaphone
"Let's go Michael, son, we're taking you home"
"Murder in the Red Barn"
Written by Tom Waits and Kathleen Brennan
Performed by John Hammond Jr. and Tom Waits
From the 2001 album Wicked Grin
Buy this CD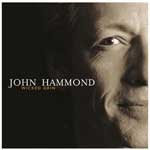 Waits wrote this decidedly bucolic tale of backwood butchery with his wife and recorded a bongo pongo version for his 1992 aural slag heap of an album, Bone Machine, but it's this slow ominous 2001 take by Hammond that really brings it all home. Another on those songs that sounds like it MUST be about something that actually happened, this bluesy dirge is actually a little vague on specifics, but has zilch to do with an infamous 1827 British murder case. Nope, hoist that rag - this one, with its cast of hobo drifters with tags like "Blind Bob Racoon" and "Slam the Crank"," Bible-thumping scripture-quoting and possums is as American as roadkill. Forboding lines like "Someone's crying in the woods/Someone's burying all his clothes" rub shoulders with typical tossaway Waits imagery like "The trees are bending over/ The cows are lying down/The autumn's taking over/ You can hear the buckshot hounds." So we know something bad happened, but what? And why? And did they get the right guy? Then what about Cal, with the scars on his face? And that woman drinking alone in her room? All we know for sure - and here it comes again in the chorus -- is that there was "a murder in the red barn."
"James River Incident"
Written and performed by Steve Wynn
From the 2004 album Riding Shotgun
Buy this CD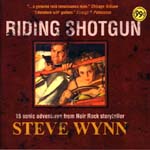 Wynn, the main man behind 1980s post-punkers The Dream Syndicate, is a sharp literate songwriter whose work often displays a noirish edge, creating hard-bitten musical short stories and tough-minded impressionistic vignettes that combine the cock-eyed angst of Dutch Leonard or James M. Cain's small-time losers with the bruised romanticism of Raymond Chandler or George Pelecanos, all wrapped up in sweeping guitars and a backbeat as unrelenting as original sin. This 2004 compilation collected several of his more crime-oriented tunes, including the chilling (and previously hard-to-find) James River Incident, another song that suggests more than it reveals. But I love this slow burn chugger that chronicles the fallout "after the cops and the reporters have all gone home" of an unspecified act of violence, from the point of view of a witness who's "tired of explaining myself against the wall." "I just don't wanna hear that garbage anymore," he bitches, but there's something in the way Wynn spits out the line, in sneering half-spoken asides (sorta like Lou Reed doing James Ellroy) that suggests the narrator may not be so innocent after all. "The dead can rest for ever more/If the creek don't rise again." he concludes, until letting the punch line slip in like a shiv amid an increasing crescendo of wailing guitars, paranoia and fatalistic bravado. "Let it rise," he snarls.
This guy should be playing Bouchercon.

Oh yeah, one more thing: Let me just point out that even though last time around I listed "Cop Killer," that doesn't mean I'm in favour of killing cops. Okay? So stop sending me those nasty letters. I also liked "Folsom Prison Blues," but that doesn't mean I'm in favour of shooting guys in Reno just to watch 'em die. Okay? OKAY?

A version of this article appeared in the July 2005 issue of Crimespree Magazine.

| RIP THIS JOINT | ARTICLES | REVIEWS | SONG OF THE WEEK |