Hot Rod Thunder: The Ones That Got Away
Songs That Shoulda Been On Hot Rods and Custom Classics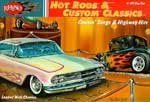 Make no mistake: Rhino's "Hot Rods and Custom Classics" 1999 boxed set is one moving, groovin' set of car tunes, but damn it all, no Springsteen?
In fact, there are plenty of automotive-themed classics that, due no doubt to licensing and space issues, just plain got away.
So next time the grease monkeys at Rhino tank up, here are a few suggestions for the babies they should strap in for the ride (and these are just off the top of my head, and don't even include the zillion and one interchangeablesurf band odes to every make and model of car under the sun).
Get motorvatin'...
"Ramrod" by Bruce Springsteen
"2-4-6-8 Motorway" by The Tom Robinson Band
"Hot Rod Sleigh" by The Reindeers
"Long May You Run" by The Stills-Young Band
"Cadillac Ranch" by Bruce Springsteen
"Last of the V8s" by Slaid Cleaves
"Making Thunderbirds" by Bob Seger
"Thunderbird" by John Hiatt
"Drivin' Sister" by Mott the Hoople
"Little Old Lady from Pasadena" by Jan & Dean
"Take Me Riding in your Car" by Woody Guthrie
"I'm in Love With My Car" by Queen
"Grey Cortina" by The Tom Robinson Band
"Roll on Down the Highway" by Bachman-Turner Overdrive
"Pink Cadillac" by Graham Parker
"Cars" by Gary Numan
"Long White Cadillac" by The Blasters
"Fast Car" by Tracy Chapman
"Drag City" by Jan & Dean
"Rapid Roy The Stock Car Boy" by Jim Croce
"Used Cars" by Ani DiFranco
"Mary's Got a New Car" by Tom Petty and the Heartbreakers
"Route 66" by The Rolling Stones
"Brand New Cadillac" by The Clash
"Look at That Cadillac" by the Stray Cats
"Stolen Car" by Patty Griffin
"Bucket T" by The Who
"May You Always Drive a Cadillac" by The Everly Brothers
"Let Me Be Your Car" by Rod Stewart
"Uneasy Rider" by Charlie Daniels
"Racing in the Street" by Bruce Springsteen

| RIP THIS JOINT | ARTICLES | REVIEWS | SONG OF THE WEEK |